PRECAST PROVIDES VALUABLE BENEFITS
Strength. Versatility. Efficiency.

Precast concrete is compatible with all structural systems. It can be a more affordable way to enhance the design and installation of a variety of building components. The integrity of precast concrete offers exceptional durability and makes it extremely easy to maintain.
COUNTLESS DESIGN OPTIONS
Precast concrete provides architects and building owners a variety of aesthetic options. It can be made to compliment a host of building materials by incorporating limestone, granite, marble, terra cotta or a variety of brick and tile products. See our Resources page for samples of possible precast finishes, as well as information regarding its usage.
PRODUCTION EFFICIENCY
Fabricated off-site under controlled conditions, precast components benefit from the expertise of master form makers and concrete craftsmen. Production line efficiency adds value by bringing economies-of-scale to the construction process, keeping your project within budget. Plus, precast's modular approach minimizes surprises to meet or exceed deadline expectations.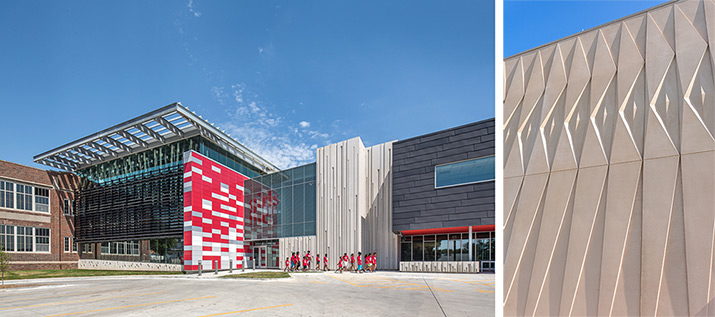 MINIMIZE ERECTION AND IMPROVE SAFETY
Precast has many advantages at the job site – minimizing installation time; ensuring a precise fit; minimizing waste; keeping the site cleaner; erecting in virtually all weather conditions; and minimizing or even eliminating trades from the construction zone – all of which improves logistics and worker safety.
ENVIRONMENTALLY FRIENDLY
Precast concrete can contribute to goals of environmental stewardship in many ways. It is a versatile and durable material, produced in a controlled factory environment by highly trained personnel, with virtually no waste, under stringent quality control. Precast's thermal mass can save energy and increase comfort. Enterpise Precast employs LEED accredited professionals along with a knowledgeable staff of professionals that are ready to help guide your next project to compliance with updated codes and energy standards.