Lannon Commons and Jesuit Tower Addition at Creighton Prep High School
Omaha, NE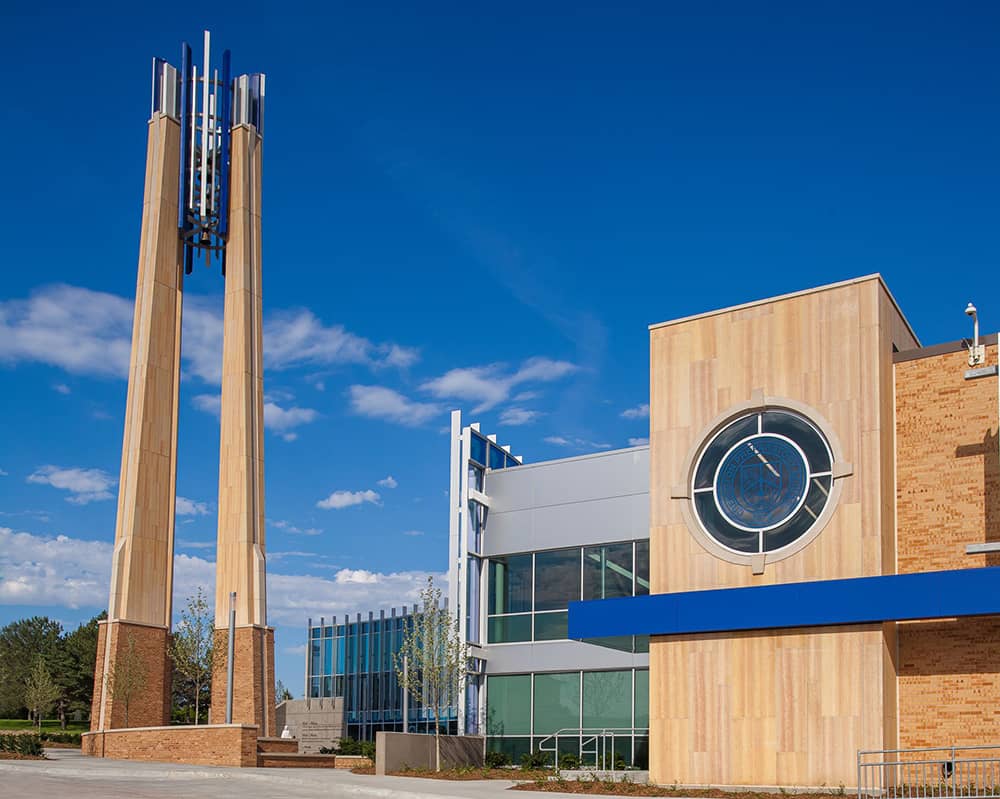 PROJECT
The Lannon Commons and Jesuit Tower at Creighton Prep High School
DESCRIPTION
In 2018, Creighton Preparatory High School determined that a new expansion was necessary. The additions of the Lannon Commons and Jesuit Tower, is a blend of contemporary architecture with the existing mid-century modern style of the campus.
The Lannons Commons addition utilized stone clad insulated precast wall panels. The 14" thick wall system was clad with Natural Stone that wrapped around each stair tower and supported the roof structure above. The stone, 2" thick Northern Pink Buff stone, was shipped to the precast manufacturer's facility, and cast directly into the precast panels eliminating the labor intensive process of hand setting the stone on the job site. This expedited building process provided the finish that the design team desired.
The Jesuit Tower's height makes it an icon for the campus and a beacon to the community through its use of light and sound. The Jesuit Tower is comprised of four independent precast concrete piers stretching 100' into the sky and is capped with a 30' tall steel ring structure. The precast piers developed into the tower's gravity and lateral load resisting structural system. This development allowed the architect to minimize the width of each pier. The piers were 4' wide x 13' deep at the base and tapers to 4' deep at the top. The tower precast was clad with the same stone material used on the Lannon Commons addition to form a cohesive appearance for the campus.
Directly below the Cross of the Jesuit Tower, "Graphic Concrete" was used for the Plaza Feature. This technology uses a proprietary type retarder paper that can be printed with any type of design or pattern. The design team utilized a custom design provided by the school that compliments the new Icon for Creighton Prep High School.
LOCATION
Omaha, NE
RECOGNITION
2019 ACI Award of Excellence Winner
ARCHITECT
Holland Basham Architects
CONTRACTOR
MCL Construction
PHOTOGRAPHY
Jacia Phillips | Arch Photo KC