Globe Life Field for The Texas Rangers
Arlington, TX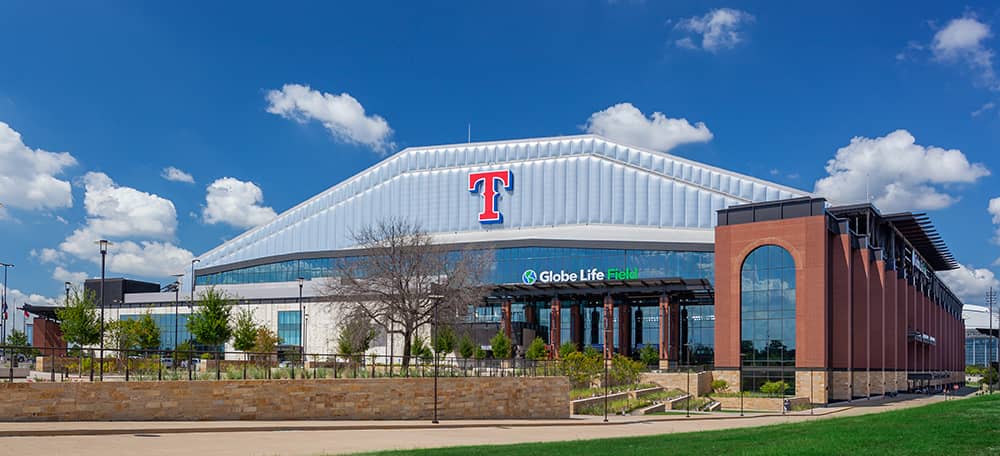 PROJECT
Globe Life Field for The Texas Rangers
DESCRIPTION
Shortly upon completion of the 2019 PCI Design award-winning Texas A&M Kyle Field Stadium project, work commenced on the Globe Life Field for The Texas Rangers, which opened in March of 2020.
Designers originally envisioned the use of hand-laid brick for the north façade. However, the contractor emphasized early on that 100% hand-laid brick would not be possible with the construction schedule.

As an alternative, they split up the brickwork, using precast concrete on the exterior of the façade and hand-laid on the interior. They selected a thin-brick version of the same full brick that was being used throughout the ballpark and cast them into the precast concrete column wrap units, which were eventually lifted into place and hung from the steel structure.

"From the start of design, Fred Ortiz [of HKS] challenged us to 'think outside the box' on the finishes for the exterior of the non-brick-clad areas," says John Arehart, vice president of the architectural division for Enterprise Precast Concrete.

The design team ultimately selected a distressed finish that simulates aged travertine by incorporating three finishes at varying widths and depths within a 15 × 30 ft panel. "The level of exterior texture gave the façade a travertine look, but in more monolithic, large, random blocks," says Fred Ortiz, director of sports and principal at HKS. "Instead of being consistent, it was consistently inconsistent, and that worked for the betterment of the project."

Because the masonry in the north arcade was part of the same arch element, the precast concrete producer had to work closely with the masonry company and the contractor to ensure that similar masonry color and coursing complemented the hand-laid brick on the interior face of the arches for a cohesive aesthetic. "The precast concrete brick-clad columns and arches now read as one singular element, thanks to the collaborative efforts of the design and construction teams," Arehart says.
One of the most important features in the design is a massive retractable roof that can be opened and closed based on the weather. In the old stadium, extreme heat or rain were often cited as reasons why attendance was lower than in other baseball stadiums. The retractable roof, which rolls onto a steel frame with decorative thin-brick precast concrete arches, solved this issue, Arehart says. "The roof introduces a fully climate-controlled atmosphere, a first of its kind in a Major League Baseball facility."
The project was delivered on time and was selected to host the 2020 World Series.
NOTE: If you might be interested in the unique 'distressed finish' precast option for your next project, contact a representative of Enterprise Precast Concrete.
LOCATION
Arlington, TX
RECOGNITION
2021 PCI Design Award "Best Stadium"
ARCHITECT
HKS, Inc.
CONTRACTOR
Manhattan Construction
PHOTOGRAPHY
Jacia Phillips | Arch Photo KC
CASE STUDY
View a Project Case Study Video