The University of Kansas Hospital: Cambridge North Tower
Kansas City, KS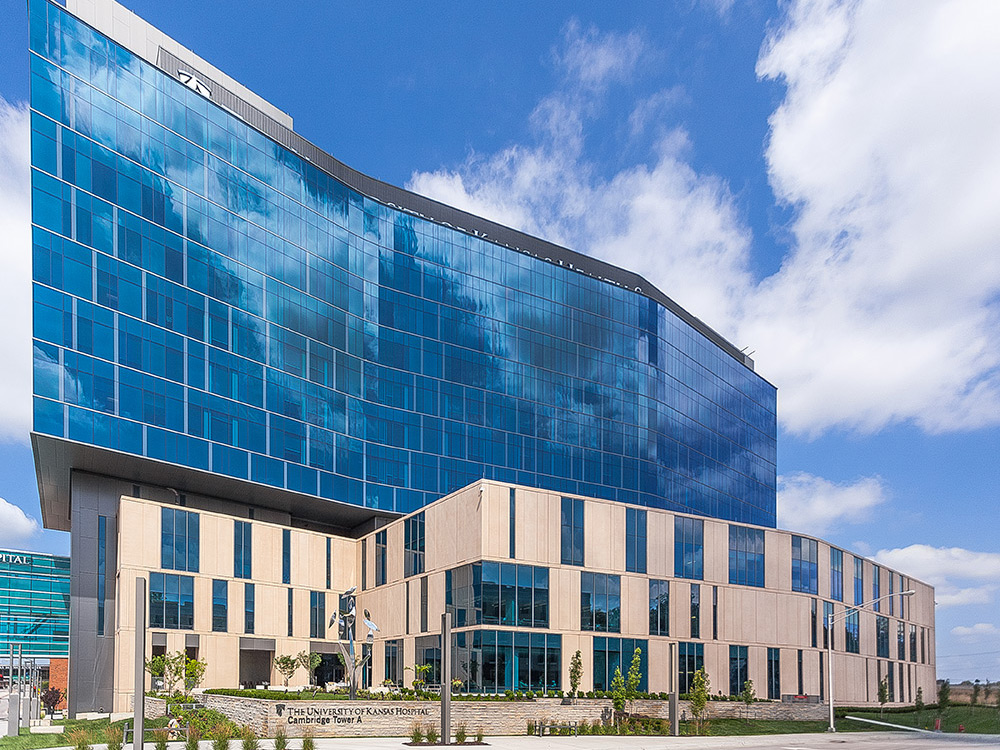 PROJECT
The University of Kansas Hospital: Cambridge North Tower
DESCRIPTION
For this 14-story heart hospital building, 33,247 square feet of 438 non-insulated precast panels were utilized. Precast provided necessary speed of construction and its modular nature helped alleviate the high complexity of the overall project. With all the surrounding construction and operating hospitals, having a safe and clean jobsite ran by a minimal crew was key. Precast was a big part of this.
Durability was also a factor. Designed shortly after the highly publicized Joplin, MO tornado of 2011, storm activity was discussed and the resiliency of the precast was part of that conversation. Having that solid base provided notable durability against ground-level debris.
The new campus has a visually striking precast base to the building contrasted with a glass structure on the upper floors, which cantilevers out and around.
The project not only came in below the budget, but also as notable fast-tracking accomplishment, the vertical expansion (developed late in the process, changing the building from 8 to 14 floors) was delivered four months ahead of schedule.
The precast had a vertical reveal form liner pattern and an acid etch finish. Panels stepped in a repeating pattern from 6 ¾" to 7 ½" around the building. The pattern was 3 stories tall x 60' which caused significant form changes in regular intervals to complete the project.
Jim Walsh, CannonDesign's Principal, noted how the use of the precast formliner pattern was very intentional and strategic, "Because we were looking at economy of scale, we wanted to be sensitive to bringing that scale down in terms of pattern and dimensionality. The vertical orientation of the form liner, spoke to contrast the fact that the main building is very long … longer than a football field. The vertical pattern of the form liner counteracted the overall horizontal proportion of the building."
View a one-minute project profile video
LOCATION
Kansas City, KS
ARCHITECT
CannonDesign
CONTRACTOR
JE Dunn Construction
PHOTOGRAPHY
Jacia Phillips | Arch Photo KC