Edison Distric
Overland Park, KS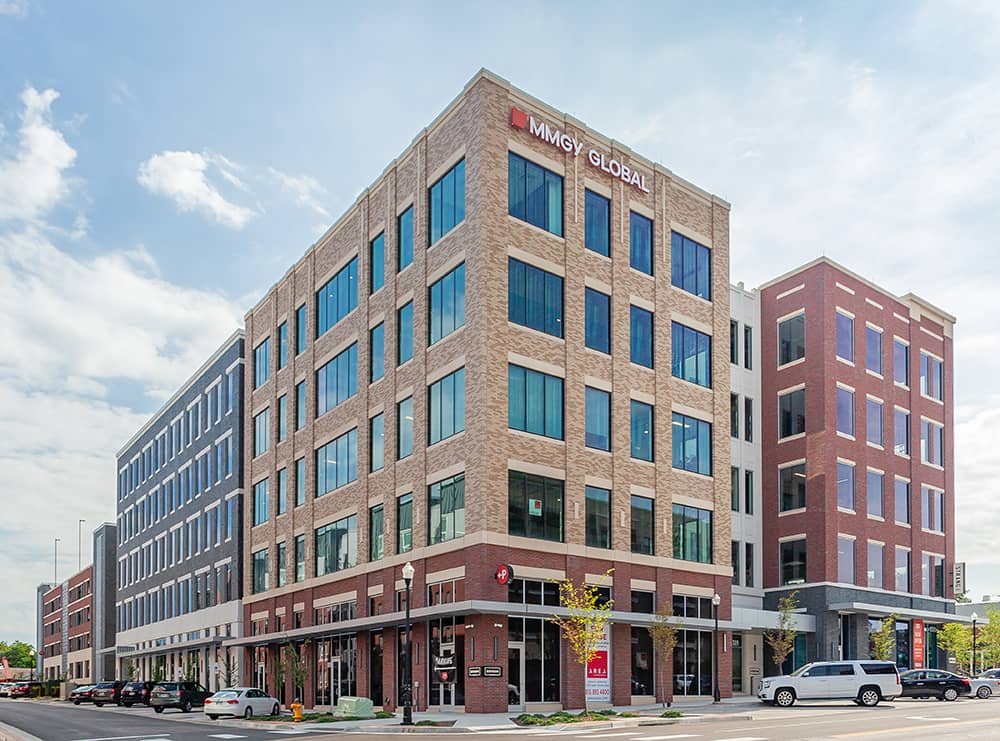 PROJECT
Edison District
DESCRIPTION
This 5-story mixed-use office building and garage are part of a group of buildings that includes an existing one-story retail building, an existing church building and a parking lot surfaced with brick pavers. These buildings, in a historic downtown area on an entire block, had to be renovated and had to have a consistent aesthetic amongst each other. Brick was used as a unifying material throughout the complex of buildings and outdoor spaces. There were also areas of exposed integral color precast with an acid etch finish. The spaces in between each building and outdoor areas are critical features, therefore each side of the exteriors of the office and garage are exposed to both pedestrians and autos. The appearance and quality of these facades is important to the overall vibe of this district.
For the 21,446 total precast square feet of architectural cladding on the parking garage (229 pieces): The City of Overland Park's strictly selective planning department did not allow parking structures that looked like a typical "garage." This meant the design team needed to hide the sloped parking floors, and provide an overall design scale that was different than the basic utilitarian garage system. Our team's solution was to add a decorative layer of precast cladding over the basic grey concrete garage structure. This allowed the team to set an architectural rhythm of pilasters and beams more aligned with the aesthetics of the office building.
For the 39,964 total square feet of architectural cladding on the 5-story tower (459 pieces): Since much of the cost of a precast wall system is based on the number of individual panels that had to be set on a steel frame, the architect worked hand-in-hand with the precaster's fabrication team to determine how to set panel sizes. There was a distinct pattern of window openings and pilasters that had to be respected. The design architect would also not allow joints in the middle of a pilaster or in a random area. A solution was created that respected these architectural elements and minimized visible joints. Many false joints were incorporated in the design development. This effort was truly a design-build effort between the architect, general contractor, precaster, and erector was key to the overall aesthetic success.
Precast was the original design based on previous similar project experience and trusted long-term relationships between this architect and precaster. By embedding textured thin brick into the precast panels, considerable time was saved over a convention brick wall system. We avoided the steps required for not only hand setting each masonry unit, but the time needed to set sheathing and waterproofing. The architect estimates at least a 2-3 month time savings using this precast system.
View a two-minute project case study video
LOCATION
Overland Park, KS
RECOGNITION
KC Business Journal 2020 Capstone Awards "Best Mixed-Use Project"
ARCHITECT
Opus AE Group, L.L.C.
CONTRACTOR
Opus Design Build, L.L.C.
PHOTOGRAPHY
Jacia Phillips | Arch Photo KC