Kansas City Art Institute, Barbara A. Marshall Residence Hall
Kansas City, MO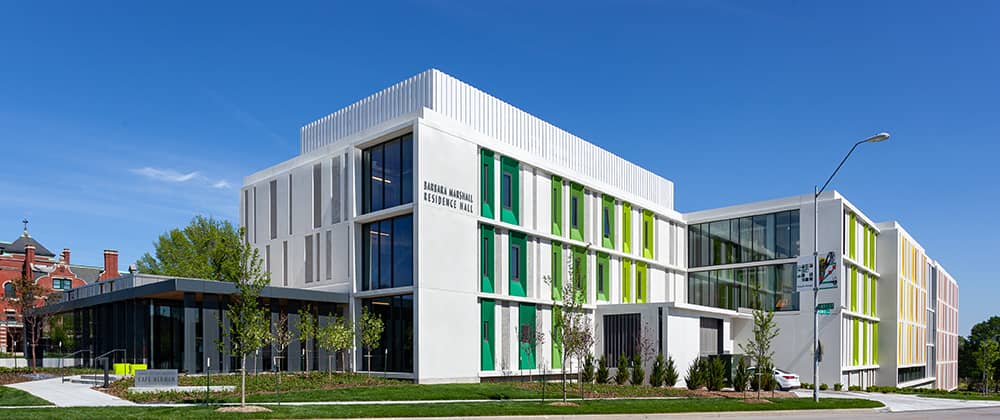 PROJECT
Kansas City Art Institute, Barbara A Marshall Residence Hall
DESCRIPTION
This student housing project consists of a four-story student residence building with one story adjacent dining center. The 227-bed residence hall, featuring double-occupancy semi-suites with private baths and cozy gathering spaces, plus a student gallery, large living room and gaming center.
A key design feature of the 31,369 square feet of insulated precast façade are the tapered windows with the pops of color achieved with a field applied stain. This combined with the multi-finish precast exterior (a combination of acid etch combined with a retarder finish) creates a striking visual presence on the campus
For the interior an 'honesty of materials' theme prevails. The interior wythe of concrete (which is primarily structural gray) is left exposed with a sandblast finish. This is seen in the corridor, study alcoves, gym room as well as the interior walls of the individual dorm rooms. This is complemented by exposed a cast in place interior walls, various open spaces and a vibrant fireplace featured space. In some areas, interior integral color precast panels continue to the exterior creating an unmistakable connection from the exterior to interior. This is perhaps best achieved in the panel on the back wall of the grandstand tiered seating area.
The architect noted that the precast panels offered an opportunity to compliment the buildings surrounding context. With the museum of art to west, the older student living center to the east, and a notable sculpture to the north, all are built from concrete as the primary material. Selecting concrete as the primary material was a natural fit. Precast offered the added benefit of leveraging factory-based fabrication to introduce a level of texture and complexity rarely possible in on site cast-in-place concrete work. In addition, it offered the ability to create a cohesive building envelope in a panelized modular fashion, and integrate the thermal barrier. The insulated panels were also able to absorb the severe taper of the exterior windows (a key design feature). Speed of erection was the final component that allowed us to bridge the challenges related to achieving a completion date based on the academic calendar.
The precaster, the architect, and the contractor all worked together on determining the panel sizes that were able to ship vertically in order to pick with a tower crane, be light enough for a tower crane (The heaviest panel was 17,500 pounds), and also be as large as possible to minimize piece counts.
The contractor also reflected "Early preconstruction efforts with the architect, contractor and precaster all seated at the table is why the project was so successful. We thought it went great. It's why we partnered early on."
LOCATION
Kansas City, MO
RECOGNITION
KC Business Journal: 2021 Capstone Award
AIA Kansas City: 2020 Project of the Year
AIA Kansas City: 2020 Honor Award
CASE STUDIES
View a two-minute project case study video
View a two-minute AIA award announcement video
ARCHITECT
Helix Architecture + Design & Christopher Carvell Architects
CONTRACTOR
JE Dunn Construction
PHOTOGRAPHY
Jacia Phillips | Arch Photo KC