Cerner Innovations Campus
Kansas City, MO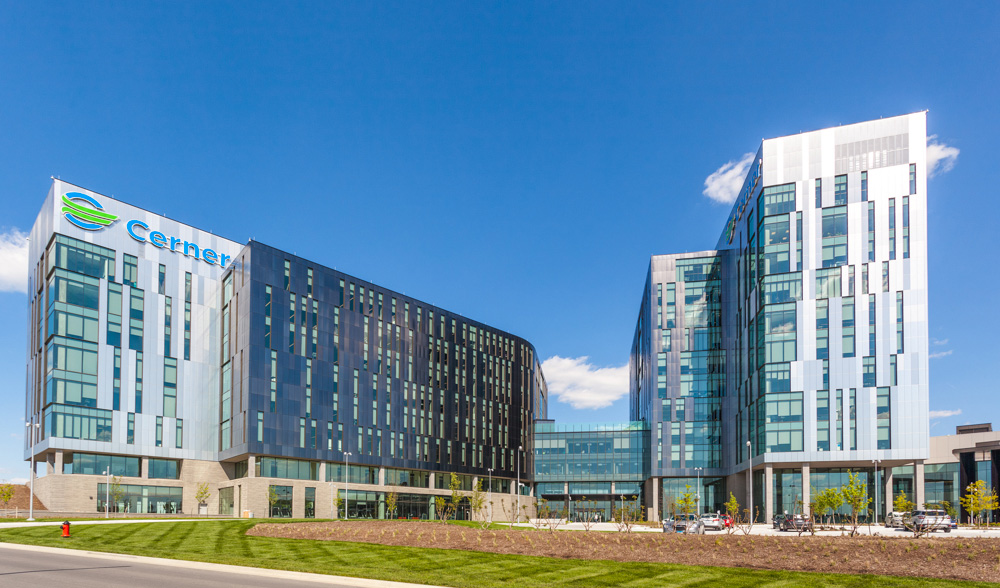 PROJECT
Cerner Innovations Campus
DESCRIPTION
These first two tower buildings of this major headquarters hub were the first phase of what is the largest development in the history of Missouri.
Insulated Precast concrete with a horizontal form liner are located on the lower two levels (weaving in and outside the building). Precast is also a major showcase piece in an exterior courtyard area with a grand stair.
While the precast was an overall supporting player, this design involved a combined design has the precast strongly complementing other materials. The duel towers are topped off with a combination of glass and distinct stainless steel rainscreen panels that change color with the various stages of sunlight throughout the day.
This project was divided into two phases. Phase 1 had 21,087 square feet of precast with 178 pieces. Phase 2 had 10,859 square feet with 195 pieces. Generally speaking, most solid panels were 8″ thick while the insulated precast panel were 13″ thick (4″ back, 4″ insulation, 5″ face). The protrusions in the precast formliner on the first two levels of the building also, give the building a varying appearance at different times of the day.
LOCATION
Kansas City, MO
ARCHITECT
GouldEvans Architecture
CONTRACTOR
JE Dunn Construction
PHOTOGRAPHY
Jacia Phillips | Arch Photo KC
View a two-minute project case study video