Holdrege Elementary School
Holdrege, NE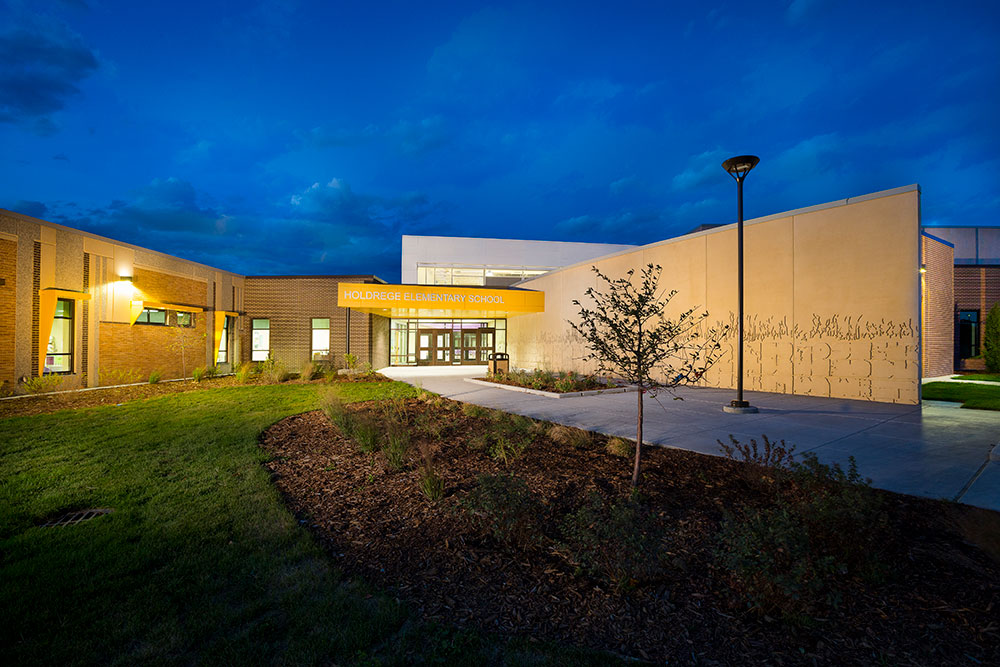 PROJECT NAME
Holdrege Elementary School
DESCRIPTION
The 78,826 square foot structure serves all elementary students attending Holdrege Public School with equalized learning spaces. The bright, cheerful design focuses on an "of the Earth" theme that instills community pride by connecting students to the Holdrege community.
The exterior of the building utilizes insulated architectural precast concrete wall panels with an array of finishes. The building entrance welcomes students with a curved precast wall featuring aerial images of nearby farmland mingled with images of native prairie grass. According to architect, Vannessa Shutte of DLR Group, "The wall's relief is tactile and encourages students to touch and interact with the design." This is a unique feature that the durability and fluidity of precast concrete could only achieve.
Elsewhere on the exterior, the 12" thick insulated concrete walls panels include vertical thin brick detailing representing the cornstalks that are plentiful in the region. The entire 40,000SF of concrete wall panels utilized a single concrete mix design, but was able to capture multiple textures and colors by using different finishing techniques such as exposed aggregate, acid etch, and abrasive blast finish.
LOCATION
Holdrege, NE
ARCHITECT
DLR Group
CONTRACTOR
Hampton Construction
RECOGNITION
ACI-NE 2016 Award of Excellence
PHOTOGRAPHY
Jacia Phillips | Arch Photo KC