Performing Art Center at Murphysboro High School
Murphysboro, IL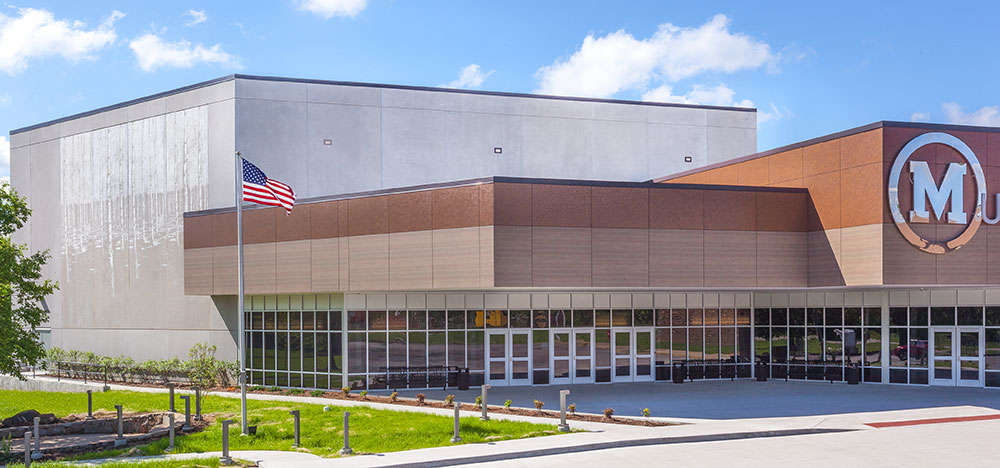 PROJECT
Performing Art Center at Murphysboro High School
DESCRIPTION
When the school district's previous performing art center (constructed out of CMU walls and a wood truss roof frame) dangerously collapsed, the owner and architect elected to replace it with a precast concrete structure for the increased: stability, durabilty, energy efficency and speed of construction.
A notable aspect of this project is that it was the largest (and among the first) projects in the United States to utilize Graphic Concrete, a technology with a proven track record in Europe. Graphic Concrete allows designers to impart any image or pattern onto a precast concrete surface. This technology is quickly becoming a game changer in the precast concrete industry. The forest pattern was a key design feature in this project which consisted of 19,876 square foot of 12" (4-4-4) insulated composite precast sandwich panels.
A tree pattern was selected for specific and strategic reasons. The lead design architect on the project wanted to bring the tree lined roadways that come into the school onto the auditorium to try and continue that "park" like feel to the new building. The graphic is highlighted with color changing LED lighting that washes up the building. The owner has control of what colors can and will be used depending on the season etc.
Graphic Concrete is permanent, requiring little to no maintenance as opposed to a mural or painted finish and is environmentally friendly.
LEARN MORE ABOUT GRAPHIC CONCRETE:
LOCATION
Murphysboro, IL
RECOGNITION
2020 PCI Design Award "Harry H. Edwards Industry Advancement Award"
ARCHITECT
Hurst-Rosche, Inc.
CONTRACTOR
Fager-McGee Construction Inc.
PHOTOGRAPHY
Jacia Phillips | Arch Photo KC
CASE STUDY
View a one hour AIA Conf. Seminar with a Murphysboro Case Study
View a one-minute project case study video
View a two-minute project case study video