Kansas Leadership & Health Foundation Conference Center
Wichita, KS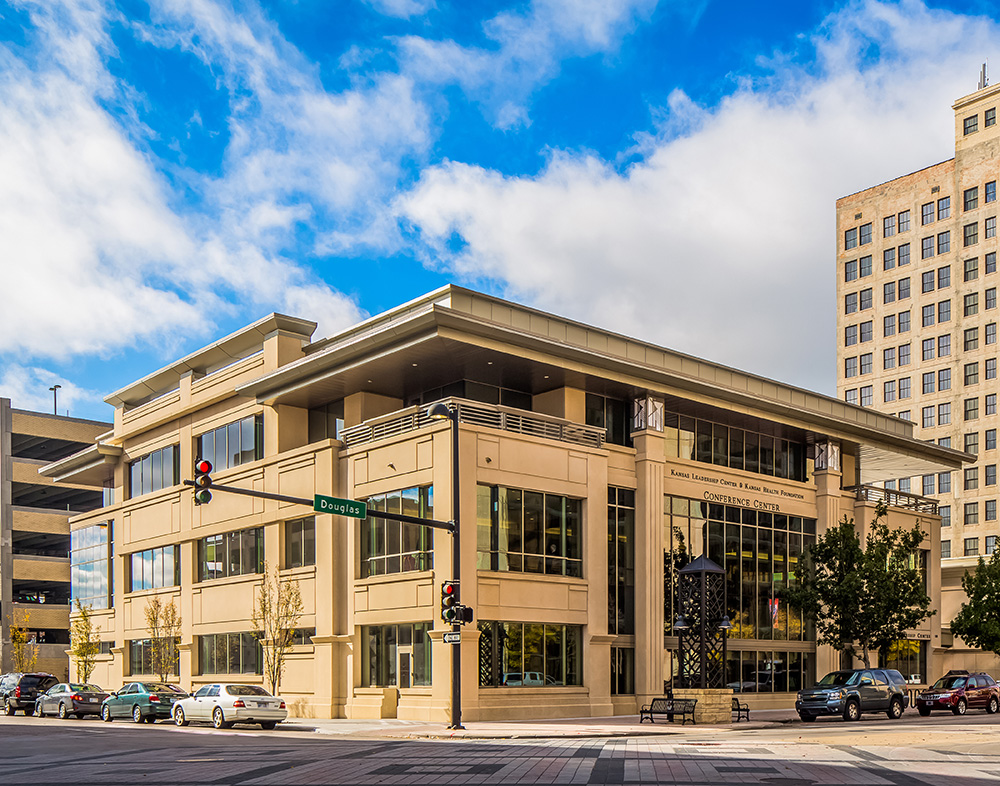 PROJECT
Kansas Leadership & Health Foundation Conference Center
DESCRIPTION
The exterior design for this conference center can be described as a modern day version of 'Prairie Style' (or 'Mission Style'). The adjacent existing building also had a distinctive limestone base and wainscot banding. These features were carried over to the new building to provide visual continuity. The City of Wichita's downtown design guidelines for this site called for an articulation of the façade with a traditional base, middle and top layering. These shapes were all able to be included as part of the precast panel profiles as opposed to a more traditional method of using individual application of a variety of materials / elements. This saved time and money and achieved the desired look without compromise.
High-end architectural components were designed and installed on a tight site with a difficult schedule. The Owner/Foundation plans to be in the building indefinitely, so long durability and life cycle costs were considered as were the durability and cost savings that a precast solution can provide. The permanence offered by precast concrete panels lets this building stand up to the harsh urban surroundings and wide temperature and weather variances.
Deep cornice profiles and reveals were an important quality of this building. While some repetition of these design elements occurred, much of this building's character was achieved through a heavily articulated and unique facade treatment. Of the total number of 132 precast pieces, a proportionately high number were unique. While this was much more complicated than a more typical office building façade, precast provided a way to accomplish and erect a complex façade within a tight construction schedule. There are 16,725 square feet of precast solid panels ranging from 6 inches to 8 inches thick, (thicker at the cornice areas). As seen in the photos, the design was very intricate with cornices, reveals, bump outs, ornate details and an acid etch finish.
Being a downtown site with no staging area outside the building footprint, speed of erecting the exterior skin was critical. The schedule also required the building enclosure to be completed during winter months. These factors did not make the use of traditional, laid-up masonry a practical solution. Precast concrete allowed erection over the coldest of winter months and for speed of erection.
Whilte this was a complex and challenging job precast concrete was the ideal choice. It resulted in a timely, complex and articulated building enclosure.
LOCATION
Wichita, KS
ARCHITECT
Opus AE Group, L.L.C.
CONTRACTOR
Opus Design Build, L.L.C.