McKinney ISD Football Stadium
McKinney, TX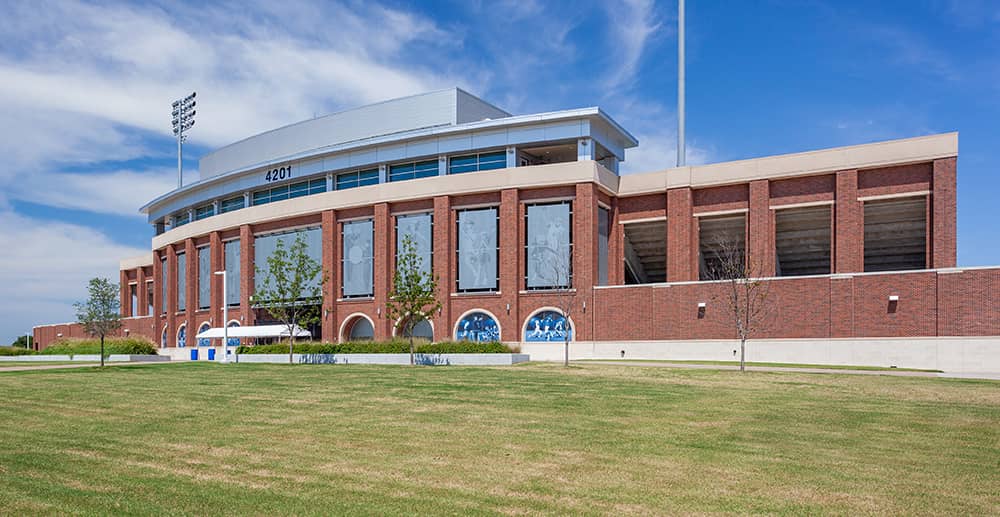 PROJECT
McKinney ISD Football Stadium
DESCRIPTION
McKinney, Texas, is located in Collin County, Texas, approximately 32 miles north of Dallas. McKinney, TX features a growing population of 175,000 residents and an independent school district consisting of 3 high schools with over 24,000 students. In 2016 residents voted to approve a Bond Package that included the replacement of the 7,000 seat Ron Poe Stadium, built in 1962.
Not to be outdone in the Texas high school football stadium arms race, the $69.9 million dollar McKinney ISD Football Stadium and Events Center has a home and visitor seating capacity of 12,000 and serves the 3 high schools in the McKinney ISD. The structure was also designed to allow for future expansion. In addition to high school football, the stadium also continues to host the annual college Division II National Championship through 2021 as well as other miscellaneous events.
the stadium reflects a classic architectural style featuring brick clad insulated architectural precast, column covers, arches, spandrels and wall panels as well as structural precast double stadium risers, single risers and tubs. The architectural precast components, totaling 504 pieces, were manufactured at Enterprise Precast in Corsicana, Texas and the 226 structural components were manufactured at their sister structural facility, American Concrete Products, in Dallas, TX.
Construction of the project commenced in January of 2017 and opened for its first game on August 31, 2018.
Significant collaboration between Enterprise's in-house engineering department and Stantec Architecture took place to help ensure the success of the project.
LOCATION
McKinney, Texas
RECOGNITION
Precast Concrete Manufacturer's Association 2019 Best of Precast, Best Stadium K-12
ARCHITECT
Stantec Architecture
CONTRACTOR
Manhattan Construction
PHOTOGRAPHY
Jacia Phillips | Arch Photo KC
View a 90 second project case study video